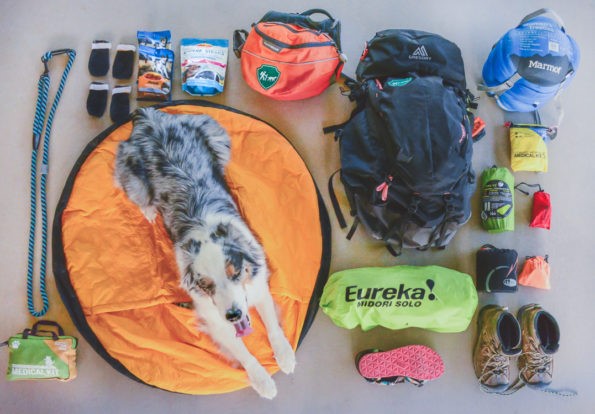 Everyone has their own preference when it comes to backpacking, some people love to go ultralight, some are more in it for comfort, and others want practical. For backpacking with a dog, being prepared without over packing is my main goal. Below, I have my list of items I consider essentials and would never leave the house without when backpacking with my dog Goose.
1.) Dog backpack
I am aware not all dogs can carry a backpack either for size or age of the dog, but if your dog is healthy enough then I say take advantage of it! If you don't know if your dog is ready for a backpack I recommend taking them to your vet and asking your vet to conduct a physical exam to determine if they are physically ready to wear a backpack. Ok so your dog can wear a backpack that's great, just remember to not dive right into a backpack full of dog gear remember training is key to keep your dog happy and healthy. Start with short hikes and lightweight in the backpack and slowly increase the weight to the target weight. A maximum of 25 percent of your dog's body weight is a rough estimate. But remember the age, size, and strength of your dog will alter that weight either up or down, so always double check with your vet.
2.) First aid kit
This is something that weights a bit but I think it's worth it, I carry a first aid kit for myself why not have a dog specific one for Goose. Accidents can happen it's best to be prepared especially when you're out away from civilization.  Also, familiarize your self with dog first aid also think about attending a K9 CPR/First aid class this would be very beneficial if you are out on the trail and your dog or friends dogs get injured. Another key tip is you can use your ENO Hammock as a sling, or a way to transport an injured dog out of a precarious spot when backpacking.
3.) Dog boots
I always take a pair of dog boots with me, Goose dog may wear them, or he may not but if he starts showing signs of his paws being tender I have them and they are easy enough to get on and keep covering miles. Boots are also great for trails with sandstone or trails with lots of goat-heads or cactus, keeping your dog's paws and pads happy and cut free.
4.) Food & Water
A staple to any backpacking trip, but we try and look for freeze-dried dog food formulas when we go backpacking they lighten the load and they are packed with protein to help them recover after a long day of hiking. Lots of fresh clean water is extremely important whether your filtering along the way or finding streams or creeks, try to stay clear from standing water that looks like it's been sitting for weeks Giardia, Coccidia, and Leptospira can be present and is not something you want your dog to get, getting these parasites must be treated by a veterinarian. I also have Goose carry two 1L platypus water bottles they are lightweight and fold up when empty, it's also nice cause I have extra containers I can use to filter water if needed.
5.) Collapsible bowl
Our favorite kind of dog bowl for food and water is one that is lightweight and is easily folded up and able to be stored away. Collapsible dog bowls also double as a sink for camp or drowning out a campfire.
6.) Comb & tick key
A comb is used quite often here in the desert as we have cactus and if your dog gets the unfortunate stowaway it's easier for you to use the comb to flick it off and then deal with the spines that stayed. A tick key is good to have on hand just in case you have a run in with these pesky bugs.
7.) Poop bags
Leave no trace, that goes for your dog too. If your dog goes number two remember to bag it and tag it, I double bag with a ziplock bag and have him carry his poop out in his backpack.
8.) Treats
Just like us, dogs need a snack on the trail to keep them going and keep them happy treats make trail time a happy time.
9.) Leash, collar and I.D. tags
All three of these items are very important for the safety and identification of your dog out on the trail. The leash is important for restraining and controlling your dog if you need to do so. And the collar and I.D. tag is crucial to your dog's safety if for some reason your two are separated.
10.) Sleep System
Some dogs don't need a lot and are perfectly happy sleeping with nothing but if it is cold and if your dog needs some comfort an old foam sleep pad cut to size would work great, even the dog specific sleeping bags that are out on the market now are a great way to keep your dog comfortable and happy when they turn in for the night after a long day of hiking.
*These Items are subject to change depending on where and when you are backpacking with your dog, a few other items I would bring with me are as follows…
Safety light: This is a great way to help you keep tabs on your dog after sunset and during nighttime potty breaks.
Dog coat: Definitely an item I would bring if your dog lacks thick fur and if the temps will be low.
Cooling collar: All dogs have a hard time cooling down and this accessory is worth every added ounce when the temperature is climbing.
What are some of your essentials you bring to your dog when backpacking or hiking? We would love to hear comment below and share.
Author Bio:
I'm Kerri Irwin and I spend my days exploring the Arizona Desert with my adventure dogs by my side, we are always seeking out new and untraveled trails in Arizona. My dog Goose is my constant and devoted companion and is able to navigate the desert as well as any well-seasoned trail guide, together we are both always up for any adventure. See more at dustydesertdogs.com or on Instagram: @dustydesertdogs