Arizona is one of the most underrated states. No seriously. Aside from the city of Phoenix (which I am convinced is the new Portland), some of the raddest sights to see, places to go, and people to meet are in northern Arizona. Here are some of my favorites:
FLAGSTAFF: Home to NAU, trees upon trees upon trees, freezing winter temperatures (yeah it actually snows in Arizona, did you know that?), super awesome hippies, hole in the wall coffee shops, and outdoor adventure maniacs. Flagstaff is fabulous, because if you're speeding just a little bit, you can make it there, leaving from central Phoenix, in just under 2 hours—the perfect amount of time for even a day trip
Little known fact, the original Route 66 is located in Williams, Arizona, just 30 minutes east of Flagstaff. Say whaaat!? No really. This is the place that the famous podunk town Radiator Springs was based off of in the Disney Pixar movie Cars. The town of Williams is home to the YoungLife campground Lost Canyon, close to Bearizona, the Grand Canyon train, and countless family-owned shops, restaurants and a theater.
This picture below was taken at the famous Route 66 zipline located right off of North Grand Canyon Blvd. While I do not suggest setting up your hammock on a structure that holds up a zipline, you can head up the road a mile or two and run into a great river complete with countless trees and even the opportunity to catch some fish!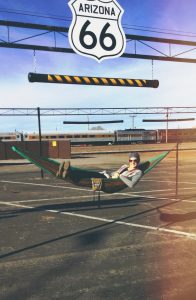 In the heart of Flagstaff (located on 323 S Windsor Ln), stands the coveted Recreational Equipment Incorporation, commonly referred to as REI. These three letters mean magical things for hammockers and adventurers alike. This REI has an assortment of ENO products, ranging from a large selection of Single and DoubleNest colors, strap extensions, rain tarps, among other must-haves. While you're there be sure to pick up some snacks like Bearded Brothers vegan energy bars, or Honey Stinger Organic Energy Chews.
Famous for small shops and great coffee, Flagstaff offers a variety of bistros. A couple personal favorites are Late for the Train (multiple locations found in the downtown area) and the Firecreek Coffee Co.
Every good adventurer knows that when you travel a souvenir of sorts is a must. Stickers always make a great reminder of a trip or excusion, and double as a stellar gift. P.j. Chilcottage neighbors dozens of independently owned stores in the Old Town Shops district off of Birch & Leroux. At P.J.'s you can find hand crafted soaps, apparel, décor for the home, books, and of course, stickers. I snagged this fabulous mint, Arizona-shaped sticker from P.J.'s for $1.00 and immediately slapped it on my MacBook, to add to my ever-growing sticker collection.
If you visit at the right time of year, when produce is ripe, then you need to come take part in the local farmers market. The Downtown Market runs every Sunday from 8 am-12 pm from May 17th-October 18th, and the Sunnyside Market runs every Wednesday from 4-7pm June 17th-September 9th.
Another great summer activity to take part in is riding the Snowbowl ski lift, which runs all year long, creating an opportunity to see Flagstaff from an entirely new point of view—even when the ground isn't covered in snow. Lift tickets are free of your birthday and Snowbowl also offers a military discount.
I know you're really in town to hang in some trees, but maybe while you are visiting you'll check out the Lowell Observatory, home of some of the greatest scientific and astronomical discoveries.
The quaint town of Flagstaff is honestly the perfect location for a weekend getaway filled with lots of activity, adventure and packed with friendly faces, trees and memories. I can promise that during your visit you will indulge in some of the best food you've ever eaten, visit some incredibly unique shops and leave wanting to return ASAP!
Author Bio:
ABOUT ABBIE PLOESER: I am an enthusiastic adventurer, avid hiker, ENOing, Chaco-wearing, and thrill-seeking, Jesus-loving college student. Lover of all things outdoors and compulsive sticker collector. Other interests that rock my world include photography, tweeting, traveling, Colorado, and spending quality time with friends in while hanging in our beds in trees (aka ENOs).