Try taking your Yoga practice outdoors. Ever since I started doing Yoga I dreaded going to classes that were in small, claustrophobic, air-conditioned rooms where the only view you had was at the ceiling or the wall.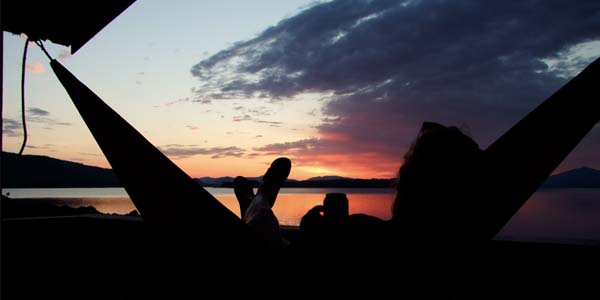 About a month ago, I finally decided to take a yoga class. The climbing gym I've been going to for about two years now has free yoga classes for members, but I just never went. I thought it was only for girls, and I didn't want it to get in the way of my climb time. If you've ever done a sport, you know that flexibility is key. I'm not flexible at all, and it was starting to hurt my climbing. So I finally decided to go to my first yoga class, solely to work on my flexibility. I'll admit I did have a tough time with some of the poses since I'm about as flexible as a stick, but there were some I could do with ease and really enjoyed.   Here are 5 yoga poses that almost anyone can start out doing: 1. Mountain Pose: It's pretty simple, where you stand straight with your feet together and reach high to the sky with your hands. My yoga instructor pointed something out where if you bend your wrists to get a little stretch you're basically half way to doing a handstand. 2. Tree Pose: Stand comfortably on both feet...
Namaste ENOpians! When you think of a hammock, camping, backpacking and general relaxing comes to mind. But what about yoga? Well, let us introduce you to the latest craze! AntiGravity yoga has hit America, and, according to FortGreene-ClintonHillPatch, it can "repair both the body and the mind." So grab your ENO Hammock, set it up in serenity, and yoga yourself into bliss! Hali Steinmann did. This photo is of her and a friend taking a relaxing break after a hard day testing lake water. "We spent the entire day climbing up and down the extra steep bank (seen in the background of this photo) to gather water samples, and a stretch/relax session in an ENO was just what we needed," Hali said.