Two years ago, my wife and I moved our family from Central Florida to Atlanta so I could pursue my careers options.  So we try to make a trip or two back to the old stomping grounds to see family, visit friends and see what has changed.  Part of our old stomping grounds is a place on the west coast called Little Gasparilla Island.  LGI is two hours south of Tampa off of Interstate 75.  From Atlanta, it's about an 8 hour drive.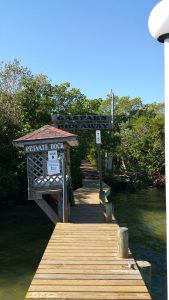 Little Gasparilla Island is only accessible by boat or by the local ferry if they are around to pick up the fare.  The locals have fought to keep a bridge from coming to the island, and so far, have been successful.  When you step onto the island, you walk back in time as there are no cars, no stores, no gas stations, and no stresses of everyday life.  The island is covered with quaint cottages, fishing shacks and houses recently built on stilts.  Your mode of transportation is predominantly electric golf carts or your sandals.  All the locals are friendly and willing to sit awhile just to listen to the breeze whether that breeze come from you as you talk or the weather.  I started visiting the island with my wife and her family before we were married.  Not much has changed in the last twenty years.  The slogan is still 'a quaint drinking village with a fishing problem.'
When you visit the island, plan to bring all your gear, food and necessities with you for the duration of your trip, especially if you are going across on the ferry.  In November, the water is on the cool side but the ambient temperature was awesome!  The beach runs for approximately twelve miles.  There is a plethora of shells and sharks' teeth to be found as you walk along the beach.  The waves lightly lap along the shore making for an easy drift or for sitting allowing the water to run beneath your feet.  The boats run up and down the coast and you might even get to watch a fisherman wrestle a tarpon to the side of their boat and then be released.  There's nothing more regal than watching a Silver King jump from the water and try to wiggle loose from the fisherman's grasp.
The west coast of Florida is plentiful for fishing with a very wide variety of available catches:  snook, redfish, sea trout, sheepshead, grouper, snapper and mackerel.  If you decide to bring your boat and tackle, you can venture into the shallows or for the real adventure, contact a local guide.  Guides are very knowledgeable about the local fish seasons and the location of where the fish are currently hiding out.  If tarpon is your challenge, then the local Boca Grande Pass is your fishing destination.  I would suggest hiring a guide to get the most bang for your buck if you do not have experience with the area.  Boca Grande Pass has been the previous site of the "Worlds Richest Tarpon Tournament."
Whatever your desire to do outside, Little Gasparilla Island is the place to visit.  With access to fishing, the beach, boating and sun, you will not be bored with no modern amenities or electronic devices.  You will be able to relax and enjoy your travel companions.  I would recommend the time and energy to plan and take a trip to the old south.  A Florida not many get to enjoy.
Author Bio:
About Jason Merritt: Married father of two who plays sports, hikes, bikes and works out. I instruct groups on overnight journeys which includes rapelling and sleeping in my ENO. Love hiking in on a trail, spending the night and hiking back out.