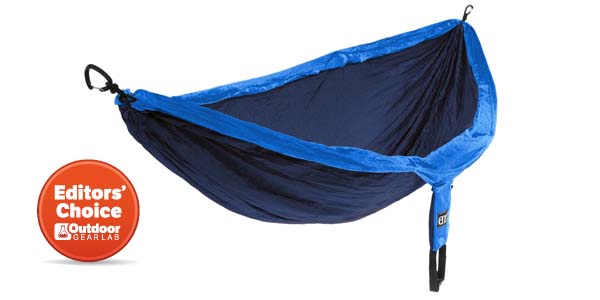 OutdoorGearLab, one of the top outdoor gear review websites, has so graciously presented ENO's DoubleNest Hammock with the Editor's Choice Award!
On a six-month exploration of Central America to test out five top-performing, compact, lightweight hammocks (what a job – can we come with next time???), the research team compared the sleep comfort, lounge comfort, setup, accessories and portability of each hammock in various outdoor adventure spots like the beach, the mountains and deep in a tropical forest.
They loved the quick drying aspect of the DoubleNest, as well as its durability, roominess and easy compactness. Determined the most comfortable out of all the hammocks tested, as well as super light and space-saving, the DoubleNest was dubbed truly best for multiple-night camping trips!
As far as camping is concerned, we're sure that adventurers will opt for a hammock over a tent any day!
About OutdoorGearLab:
Created to supply the world's best outdoor gear reviews, OutdoorGearLab compares top outdoor products side-by-side in both objective lab and real world field tests and then compares them based on a range of categories. They focus on bringing the best product for every unique situation by providing the scores of each product in relation to its competition. They give out three awards per category:  Editor's Choice award to the products they believe to the be the very best overall, the Best Buy award to the products that offer the most "bang-for-your-buck" and the Top Pick award to products that stand out for specific applications.