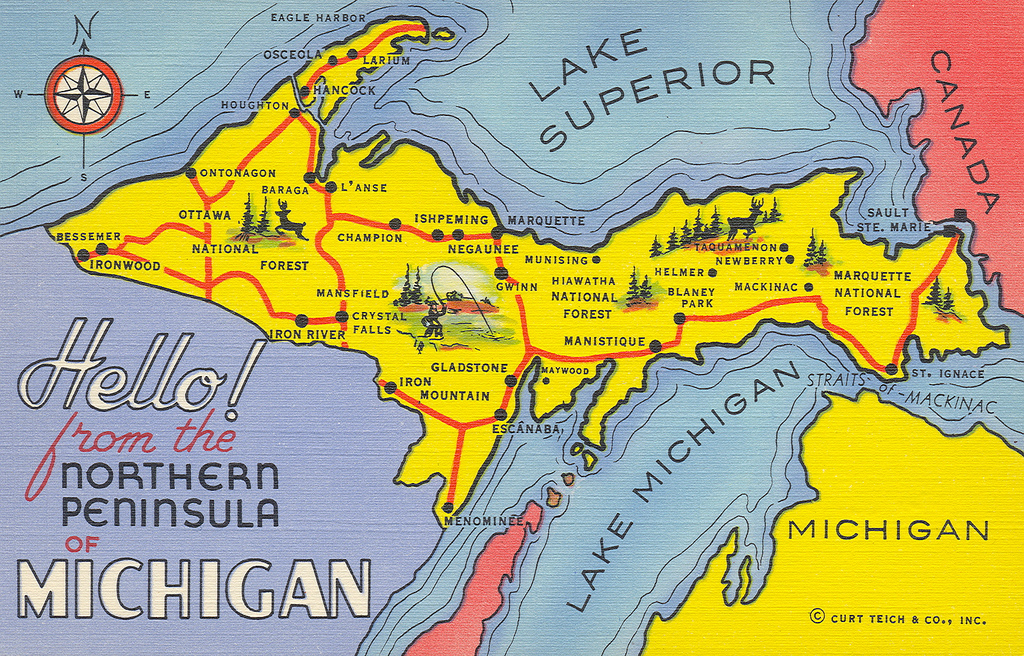 Many people often forget about the expansive piece of land that lies north of our Michigan mitten, right below Canada, which also bears the Michigan nameplate—and rightfully so. As suggested by its geographical boarders and location, the Upper Peninsula, which is merely connected to the Lower by a 5-mile bridge, could almost be its own state or part of Wisconsin. However Michiganders cherish their sister peninsula as it is a treasure trove of wilderness and cultural experiences that welcomes all to explore.
My family spends a lot of time in Northern Michigan and the U.P. in the summer months but beauty is undeniable throughout the year. However before you decide to make a trek into the U.P. you should understand most of the peninsula is vast and remote wilderness with many small towns, frozen in time—modern convenience are few and far in-between. But whether you're an experienced outdoorsman or a novice adventurer, there's something for everyone year-round in Michigan's Upper Peninsula:
Getting to the Upper Peninsula
Traveling to the Upper Peninsula is not a quick feat. From Michigan you can only enter the U.P. by ferry or across the Mackinac Bridge, a 5-mile suspension bridge that spans Lake Michigan and Lake Huron. From Detroit Metro Airport to the Bridge is a roughly a 4.5 hour drive. The U.P. is also accessible through Wisconsin, in which the peninsula is actually attached. You can cross the Michigan border from Green Bay in about 2 hours.
Autumn
As summer eases into autumn, the cooler nights transform the U.P.'s dense forests into a fiery mix of yellow, copper, orange and red. Peak leaf viewing is mid-September to mid-October so no matter where you're traveling during that time, the forest around you will be breathtaking. Locals recommend taking in the fall color change by hiking, biking, kayaking or canoeing. You can view full Fall Color Reports online to help you plan your trip. Fall is also a great time to visit the U.P.'s more than 40 lighthouses. Bring your binoculars for better views of the thousands of songbirds, raptors and waterfowl winging their way south on ancient flight paths. The Garden and Stonington Peninsulas are great for seeing migrating monarch butterflies, too!
If craft brews are you thing, the U.P. Fall Beer Festival takes place in downtown Marquette in September. Attendees can choose from over 400 locally crafted beers from more than 60 Michigan breweries. Festival guests can also enjoy a wide array of tasty food from area restaurants, and listen to a talented line-up of musicians while they sip their beer.
Winter
Michigan's Upper Peninsula is famous for the amount of snow they get annually. They're known for getting up to 200 inches a year which makes it even more fun to enjoy endless miles of snowmobiling, downhill skiing, cross-country trails, snowshoeing, ice fishing and winter festivals. The U.P. is also home to several Iditarod sled dog teams and their kennels. Many of the kennels host tours and overnight excursions out on the sleds and camping the in woods with the dogs.
Head towards Michigan Tech University in February for their annual Winter Carnival which in 1922 and has grown to become one of the largest annual winter festivals in the nation. Featuring dozens of huge, intricate snow statues all around campus and the community, this event also brings together students to participate in broomball, comedy skits, sleigh rides, a queen coronation, and lots of winter fun!
Spring
As the snow melts, the rivers roar to life for incredible kayaking and canoeing. This is also the premier season for seeing the 150 waterfalls within the Upper Peninsula's borders. If you're an adrenaline junkie check out whitewater rafting at Piers Gorge. With 10-foot falls and class IV (or bigger) rapids, this isn't for the faint of heart. Even the names of these areas, like Hell Hole, scream adventure. But if you're willing to go on a wild ride, you'll experience beautiful views.
The cold waters also make for a crystal clear Lake Superior, perfect for shipwreck hunting aboard a glass bottom boat. The 2-hour excursion will take you back in time to the industrial ages of American shipping. You will get an up close view of Lake Superior's natural underwater museum featuring a rare, fully intact, wooden sailing ship that was built before the Civil War and sits only a few feet from the surface of the lake. In total you'll visit three shipwreck sites, a historic lighthouse, and see the exquisite beauty of Grand Island and Munising Bay.
Summer
Summer months anywhere in Michigan revolve around being out on the lakes. We definitely know and appreciate how lucky we are to be surrounded by the beautiful Great Lakes and we totally take advantage of them! There's no better way to see the U.P.'s picturesque Superior lakeshore, appropriately named Pictured Rocks, than by kayak. It's the perfect way to enjoy any summer day!
For some wilderness adventure, try the Porcupine Mountains. Nicknamed The Porkies, this forest is home to spectacular waterfalls, over 20 miles of pristine beaches, the winding Ontonagon Rive perfect for canoeing, and over 20 miles of mountain biking trails overlooking Lake Superior and majestic old-growth forests, as well as miles of hiking, snowshoeing and cross-country skiing trails, that wind through hemlock, maple, basswood and birch—in total, you'll find 87 miles of trail systems running throughout the Porcupine Mountains Wilderness State Park.
For more travel tips and for help planning your next trip to Michigan's great Upper Peninsula, check out uptravel.com.
by Katelyn Davis