I'm all about exploring unfamiliar places. I mean, I'm in the desert, so "yay" to seeing more than cactus and dirt. Iceland really didn't make my list until earlier this year. I had a friend visit in late Fall, early winter, which looked like a wonderful time, but that snow life is not for me. Then after a quick Google search, I'm seeing waterfalls, mossy fields, glaciers, horses, sheep, volcanos- pretty much everything a Lord of the Rings fan could ask for, minus the elves.

Iceland is an amazing place- there's so much to see! In my opinion, the only way to really see this country for all its worth is to go the camper van route. This is exactly what I did, and you really should too! I had never camped in a van before, let alone car camped for 5 days straight. It was quite the experience, in a good way. I collected some "Oh I wish someone told me that" type thoughts throughout my trip and in an effort to make your life easier, I'm passing these down to you. You're welcome. So here it is! My tips for surviving van life in Iceland.

1. Pick out a van that's comfortable for you and fits your needs. When choosing a van, my boyfriend and I were overwhelmed. There are more than enough choices in Iceland. Aside from the different companies, each of them have a unique fleet of vans. Some fit 4 to 6 passengers while others fit just 2. Some have cooking setups in the van and others have them in the rear. Do we need a heater? Will we be driving on F-Roads? Can this van make it on F-Roads? Wait, if we get a van, where will we park it at night?
These thoughts clouded our judgement. After some additional research and a pro/con list, we finally chose to go with GO Campers and their Go SMART Camper 2-Pax. Why this van? For starters, we're only 2 people, so we need space for only 2 people. The GO Camper vans are also very discrete in style. I'm usually anal about my safety when I traveled, so driving around in a van that doesn't scream "Look at me! I'm a tourist!" was important to me. Their vans are white and have their logo on the doors- simple. We weren't planning to drive on F-Roads, so no 4 by 4 here. What I liked most, though? It was easy. We had all the accessories, cooking utensils and accessibility we needed. The boot fits!
2. Only get the extras that you absolutely need. Most van companies offer extras (think sleeping bags, chairs, etc.), but it's likely you won't need it all. We didn't. I can honestly say that we only used the chairs once. When you're sitting all day, standing feels so good. Our van didn't come with a heater, but we didn't need it. Most sleeping bags provided to you will be set for the temperatures you're dealing with. If anything, we slept out of the sleeping bag because we would get too warm in the middle of the night. Please note that I went in the late summer. If you're going in winter, don't freeze to death.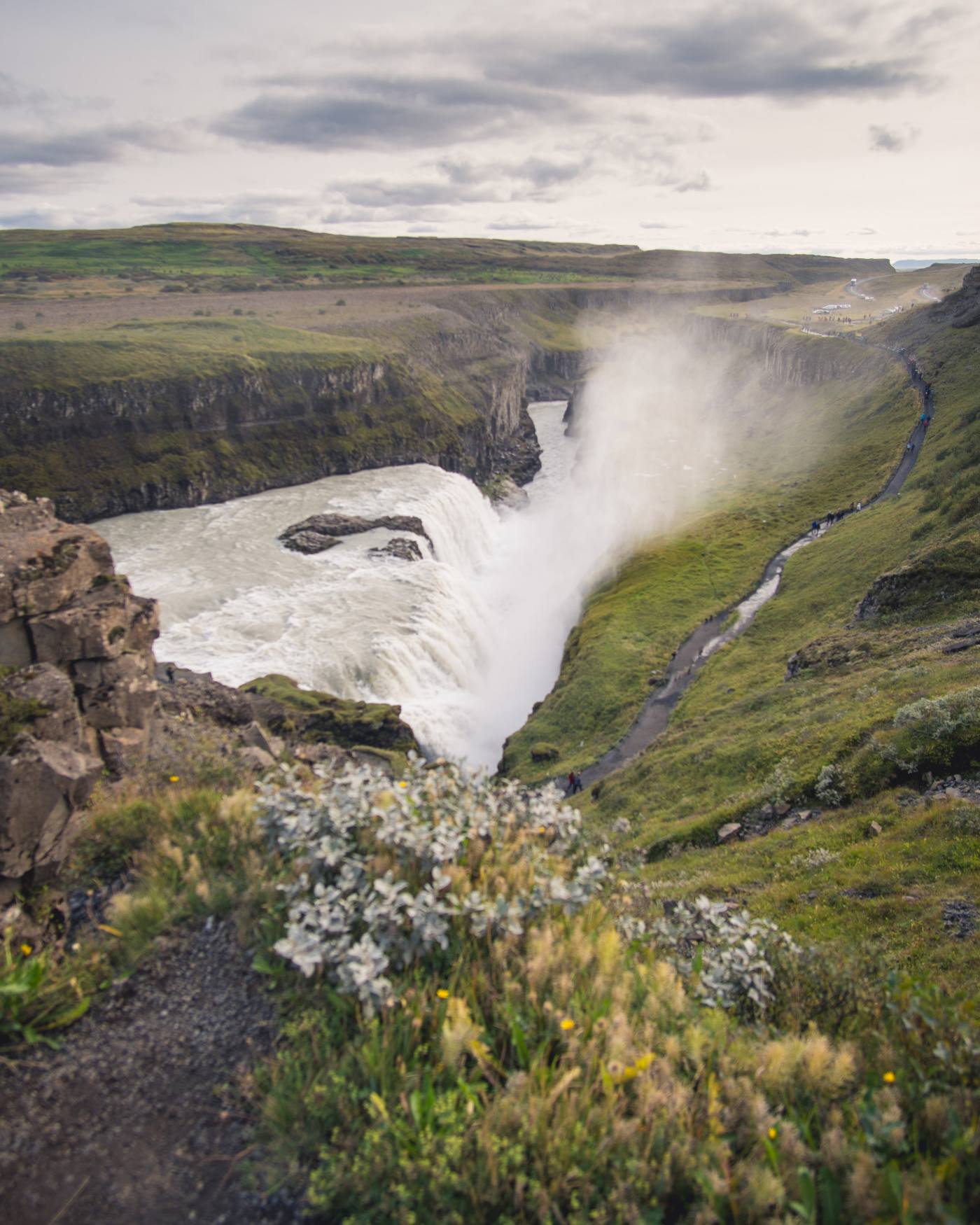 3. Make sure your van has WIFI! Luckily, my GO Camper did offer WIFI. At first, I thought it was silly of me to want it, but we found ourselves debating on whether or not to hit up a certain spot, and would resort to a quick Google search to make our final determination. Not to mention, sometimes you wonder what the Icelandic Krona to USD conversion rate is, so ya look it up. That WIFI hot spot = prime.
4. Plan where you're going to camp ahead of time. I've said it before, and I'll say it again, I am a planner. I can't go anywhere without knowing what time I'm doing XYZ, how I'll get there, what
I'll see along the way. I hate it sometimes because I feel like I can't relax. Over the years, though, I've learned to just stick to a general plan and have at least an idea as to what I'll be doing. However, with Iceland, you're in another country; you should plan where you'll be sleeping at night.
I found this amazing Google Map online that lists out all of the campsites in the country. Some of them close during the winter months. If that's you, do your research ahead of time. Some campsites are free, others are tent only, and others are car only. The cool thing to note is that these sites have some awesome amenities. Every place we stayed in had showers, a kitchen, and a little café/ seating area for guests. I heard so many languages in these sites. It's amazing to me that even though we all live out own lives, a single activity can bring people from around the world together. Sorry, let's not get sappy here. Like I said, plan ahead. While these places are great, they can be a decent distance away from one another and having to drive an hour just to sleep somewhere, isn't fun. Know where you want to be and where you need to go.

5. If anything, use the campsites to get it together. Since we cooked so much, we used our dishes a lot. There's nothing worse than going to make a bowl of peanut butter oatmeal and remembering that you were too lazy to wash out that extra marinara sauce from your only pan after you made dinner last night. Yum. Someone call Martha Stewart- I have the recipe for her! Kidding, but not. Clean your dishes. GO campers gave us soap, sponges and a brush to do so. We tried to use the sinks at the campsites to clean our dishes. When we cooked in a parking lot, we used a jug of water we purchased at the grocery store.
Speaking of water, Icelandic water is some of the cleanest, best tasting water you'll ever drink. We filled up our water bottles and jugs often at the camp sites. Even when we didn't think we'd need all that water, we did. While it's not incredibly hot there by any means, driving all day can make ya one thirsty traveler. Fill your water jugs.
The sites were also a great place to throw out trash, find that sock that magically went missing, etc. That's what we did. We got organized every spare second we had.
6. Buy your own groceries. Oh my gosh. All I heard about Iceland all day every day before I went was, "How are you affording that? I heard it's so expensive there!" Yes, it is. Iceland is expensive and your trip will be too if you make it that way. We only ate out once at the end of our trip, just to say that we did, and my sandwich was $20. No joke! I mean, it was once heck of a sandwich but it definitely wasn't spitting out golden eggs at me. We saved plenty of money buying our own groceries. Our first bill was around $60, and that provided us with breakfast, lunch and dinner for 3 out of our 5 days there.
A stove and gas should come with your van set up, so you might as well use it. We also found it convenient to cook our own food on our own time. We spent most days on the road, going to the next spot, so not having to stop to find a place to eat was magical.

7. Understand the gas pumps. GO Campers was cool enough to give us a prepaid gas card. Why do you need this? Because some Icelandic gas stations are in the middle of nowhere; therefore, they operate as a self-serve pump with no attendees on site. These stations will often ask you for a pin number, but if you're using a credit card, then you probably don't have one. With the
fees that apply to our debit and credit cards, we could get away with simply using our debit card for gas. However, these pumps will require you to decide how much gas you want before you actually start pumping anything.
We selected "Full Tank" often, and to our surprise, we found a $200+ charge on our card. HA WHAT? There is no WAY we used that much gas, right? The tank wasn't even half empty! Well, we were right. Some stations put a hold on your card for the exact amount of gas you selected you'd buy until they calculate how much gas you actually used. Know this ahead of time. Know how much gas you need and know how much money your card may be put on hold for.
Iceland was hands down once of the best places I've ever been to. I would go again and again if I could. Iceland is green and Greenland is ice! Don't miss out on traveling to this gem of a country. I hope that you found these van life tips helpful. Make sure you check out GO Campers and don't forget to pick up some Mountain Chicks swag before you go on your trip! Happy travels!
I can't even begin to count the amazing places that my ENO hammock has coddled me in the forests of the US.
Author Bio
Dani Rodriguez is the founder of Mtn Chicks! She is also a blogger, photographer, and social media guru! Find out more about Mtn Chicks here or on Instagram @mtnchicks, and check out more of Dani's adventures: @dani_the_explorer