Written and Photographed by Patrick Connolly
Hometown Hideaways — Central Florida
Hometown Hideaways is a series of blogs featuring top places to hammock around the U.S. Each guide is curated by outdoor enthusiasts who live, work, and play in the region, sharing their insights and experiences on where to hang your hammock and enjoy the great outdoors. Explore your backyard with us, you don't have to travel far to find adventure.
---
Many people know Orlando as a tourism destination with its world-famous theme parks and attractions. But what most don't have a chance to see is the wild side of Florida expressing its natural beauty in the form of ancient oaks and cypress trees, Spanish moss and abundant wildlife.
Central Florida offers many ways of exploring the outdoors, from kayaking to cycling to hiking to camping to surfing and more. The area also provides many scenic venues for strapping up a hammock, many of them with views of pristine freshwater springs, lakes and rivers. Let me introduce you to my five favorite spots to use my ENO gear in central Florida.
Rock Springs at Kelly Park
Apopka
Less than 20 miles from Orlando, Rock Springs at Orange County's Kelly Park is popular among recreationists who seek out crystal-clear waters for swimming and tubing. Many visitors opt to lazily float down the spring run, which takes about 45 minutes and is easily repeatable, as many times as the heart desires. Otters, deer, racoons, turtles, squirrels and more can be spotted when relaxing or hiking through the park.
While not tubing or swimming, many park patrons opt to lay out in the sun on folding chairs or beach towels. Hammocking is another great option for lounging in between tube runs, and there are a number of trees set at an ideal distance for the perfect ENO setup. I like to relax using my special edition ENO DoubleNest Print Hammock and Atlas Straps. Snacks and drinks are available at a concession stand within the park. Kelly Park can reach capacity, especially during hot summer months, so be sure to arrive early to get in and find the perfect hammock spot.
For more information, visit ocfl.net.
Lake Baldwin Park
Baldwin Park
Just 15 minutes northeast of downtown Orlando, Lake Baldwin Park provides waterfront scenery and several trees give prime views of a large dog park in the 23-acre space. In addition, pavilions, picnic tables, and a restroom are available at the park. Bring a book or put on some tunes while watching pooches play and water as it ripples on the lake. Before or after a laid-back hammock sesh, check out a 2.5-mile paved loop trail around Lake Baldwin.
For more information, visit cityofwinterpark.org.
Kraft Azalea Garden
Winter Park
There's almost always someone doing a photoshoot at Winter Park's Kraft Azalea Garden, and it's no wonder why. Giant cypress and oak trees tower over visitors to this small but secluded space as the Spanish moss sways with the breeze. It's easy to find a spot to hang a hammock with waterfront views of Maitland. Watch for barred owls and egrets flying overhead while relaxing in this serene, scenic spot. And be sure to do as the park's exedra reads: "Pause friend let beauty refresh the spirit."
For more information, visit cityofwinterpark.org.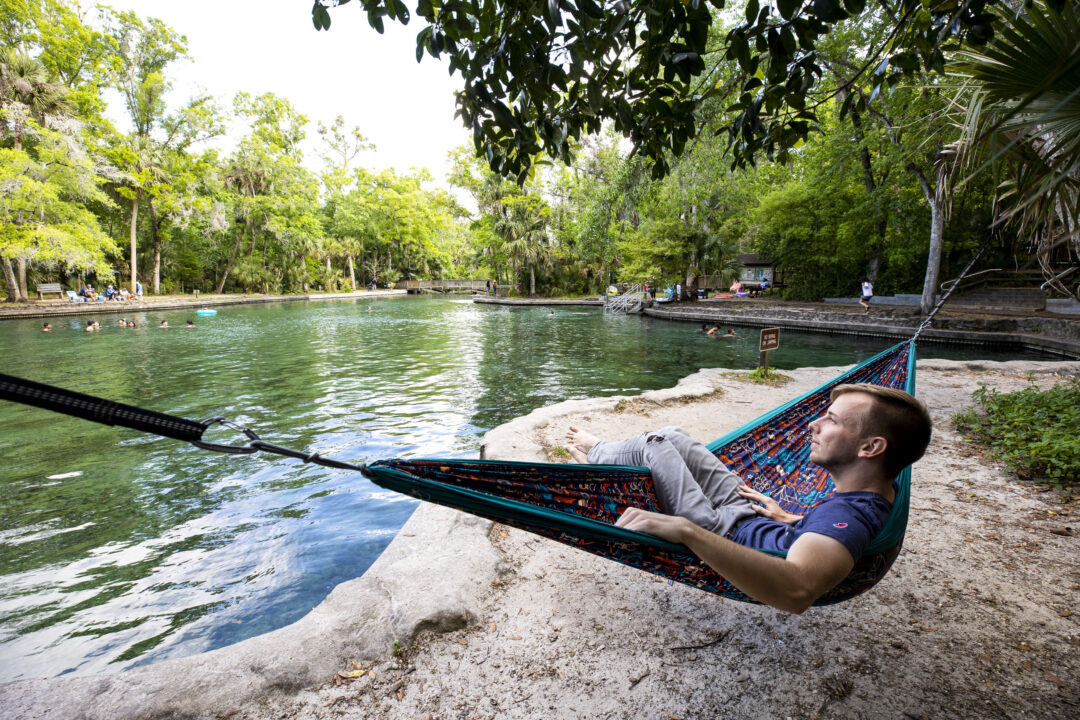 Wekiwa Springs State Park
Apopka
Among Florida's most beautiful natural gems are its gorgeous freshwater springs, which number in the hundreds. Wekiwa Springs State Park is no exception, as its 72-degree waters shimmer and welcome swimmers to cool off during the Sunshine State's sweltering summer. While there aren't many trees right near the springs, hammock hopefuls can try to beat the crowds and secure the perfect spot to hang. Florida state parks allow hammock use with straps that are a minimum of 1 inch wide (ENO's suspension systems fit the bill) attached to trees that are a minimum of 12 inches in diameter.
Wekiwa Springs feels set apart from the bustle of city life, but it's only about 20 minutes north of Orlando, making it a popular destination. Be sure to arrive early to ensure entry. Bonus: the park offers concessions, including snacks, drinks and some alcoholic beverages. Double bonus: the state park's campground also allows hammock camping in select sites.
For more information, visit floridastateparks.org.
Lake Ivanhoe Park
Orlando
125-acre Lake Ivanhoe is an ideal spot for paddlers, waterskiers and anglers hoping to catch a nice sunset from the water, or perhaps some fish. For those who prefer to relax on land, there are multiple stretches of green space along the shoreline lined with oak and cypress trees, giving ENO users plenty of options. Take to the College Park side of the lake for clear views of the Orlando skyline, which can be seen in the water's reflection on calm days. Gaston Edwards Park, set near Ivanhoe Village bars, shops and restaurants, provides recreationists with a paved trail, fitness stations and plenty of spots to set up a hammock. 
Nearby Lake Highland Park provides another urban park with lakefront lounging opportunities. When enjoying time with family or friends at one of Orlando's beautiful parks, be sure to pack ENO's TrailFlyer Outdoor Game for maximum outdoor enjoyment complete with some friendly competition.
---
Author Bio
Patrick Connolly is a writer, photographer and outdoors enthusiast who's been living in Orlando for nearly 3 years. When not relaxing in his ENO hammock, Patrick enjoys wearing flamingo shirts, spotting birds of prey, going on day trip adventures, camping, avoiding alligators, playing musical instruments, kayaking and mountain biking. Follow his adventures @pconnpie on Instagram!